For those local, or who frequent, Glengarry you will have seen the incredible bright artwork created on the old drainpipes by proud Gunnai artist Ronald Edwards Pepper from Morwell, born and raised on country.
We're excited to have Ronald's artwork on display to add some new colour and vibrancy to the typically dull concert pipes along the rail trail which shares the culture, learnings, and history of the traditional owners of the land in which the rail trail resides, the Gunaikurnai people.
Meaning of the Artwork, words provided by Ronald Edwards Pepper.
I incorporate the traditional lines of Gippsland into my paintings, and the cultural symbols of the Gunaikurnai people, such as lines, diamonds, circles, handprints, and meeting places.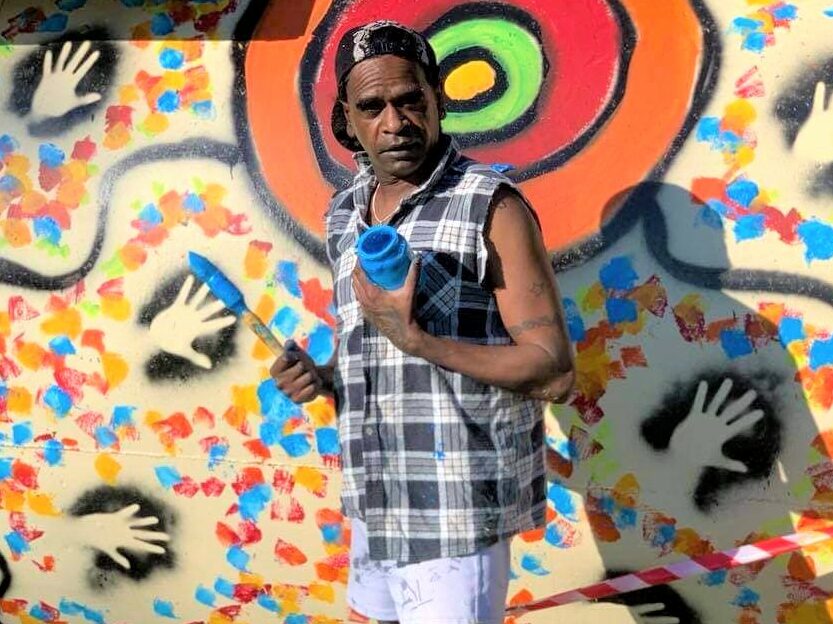 Handprints
Representing the rocks and stories of country meeting places,
Circles
Show walking on earth pathway to other places in clans groups to keep the culture going to our next generation,
Meeting Places
To meet, share, education and look after each other and the country we live on,
Sprials
And spirals, which I recently started including, each one is someone learning about my aboriginal culture, teachings, stories, and lore of the land.
The Dreamtime Story of Boorun & Tuk
The artwork also includes the dream time story Boorun & Tuk, the first Gunai/Kurnai who came from the mountains in the northwest carrying his canoe. He was Booran the pelican. He crossed Tribal River by Sale and walked to Tarra Warackel (Port Albert) in the West. As he walked her heard constant tapping sounds but couldn't identify them. When he reached the water inlets Booran put down his canoe. Much to his surprise, there was a woman in it. She was Tuk the musk-duck. He was very happy to see her, and she became his wife, and Mother of the Gunai/Kurnai people.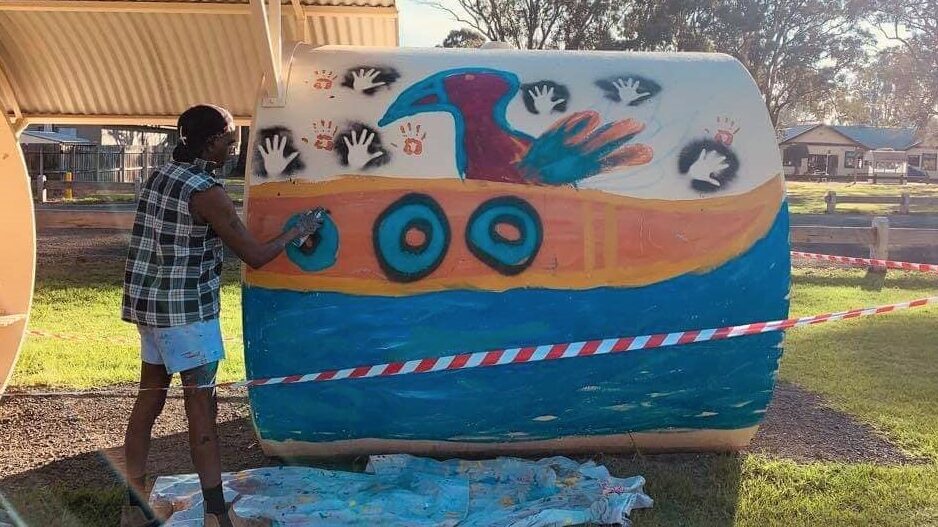 All of this has been passed onto me from Mum, Elizabeth Pepper, and my maternal grandparents Dulcie (Dolly) Mullet and Watson Pepper, as well as my Dad Leon Edwards and my paternal grandparents, Marion Edwards and Ronnie Edwards of Lake Tyers.
My love and passion for art have been passed on through my ancestors and are my way of education all on aboriginal culture.
If you haven't already this amazing piece of artwork, make sure you head out to Glengarry to check out. It's definitely a must-see.