Today marks an important milestone with the newly constructed bridge and trail over the Thomson Bridge in Cowwarr now complete, closing the gaps along the Gippsland Plains Rail Trail stretching 63km from Traralgon to Stratford.
It's taken years to get here with the million-dollar State Government funded project navigating hurdles such as the COVID-19 pandemic, vandalism, and the extreme weather Gippsland has been hit with in recent months.
Gippsland Plains Rail Trail committee of management chair Helen Hoppner says it's been a challenging task but nevertheless was excited to see it now complete.
"It's been a long time coming. We know the community is keen to start using it and thank them for their patience. Building a bridge over a river which has seen more water running down it in years was a challenge for all concerned but nonetheless, it is ready to go."

"We also want to take this opportunity to thank the State Government for the funds to build and connect this section of trail and the superb job of the local contractors who worked on the project, something we try to achieve for all our works and maintenance along the trail."

Helen Hoppner, Chairperson, Gippsland Plains Rail Trail Committee of Management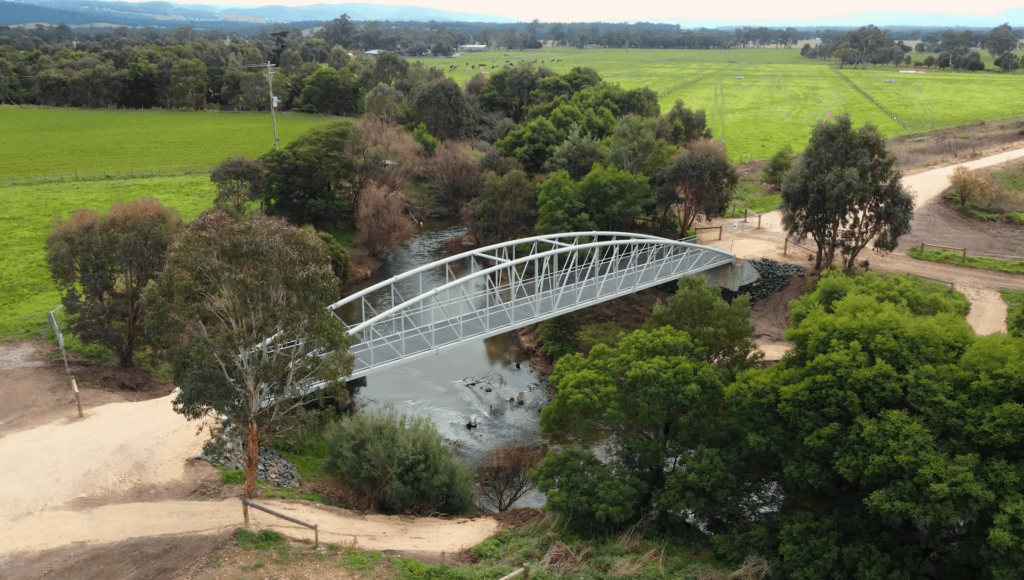 Such local contractors involved include project management firm SMEC at the helm and BMC Group completing the bridge build. Area Manager for SMEC, John Fascio, says that the team were proud to deliver the project alongside the Gippsland Plains Rail Trail committee.
"Gippsland has a proud engineering heritage, and from the outset, replacing a heritage timber trestle bridge was going to be challenging. The new Thomson River bridge is proof that we have the skills in Gippsland to build iconic infrastructure to lift Gippsland's tourism profile. Congratulations to the Gippsland Plains Rail Trail committee on a fantastic outcome for their years of hard work, and thanks for partnering with SMEC to help deliver the project"

John Fascio, Area Manager – Gippsland, SMEC
The new bridge and section of trail has been relocated back onto the original railway line and will see commuters completely diverted off the road, making it a safer journey.
"It removes 4 km from the trip and keeps users safe and off the road and takes rail users through a beautiful part of Gippsland. The new section is lined by magnificent redgums, matched with the rural scenery. It's very pleasant." Helen says.
"With pandemic restrictions significantly eased we encourage locals and tourist alike to come visit, use the trail, buy a coffee, grab a meal, or even stay a couple days. We want to welcome everyone back to the region and experience our country hospitality"
The bridge is now open for public use.
To honour the occasion, the committee along with its key stakeholders, SMEC and BCM Group, held a small gathering at the Bridge which was featured on our social media channels and available to watch on our youtube channel below.