Stratford's primary school students have established a tradition of cleaning up their town each March on School's Clean Up Australia Day. This year, St Patrick's Primary School cleaned up the entrance to the town along the Gippsland Plains Rail Trail.
Since the completion of this trail into town in 2010, more students are able to ride safely and to school. The schools Student Representative Council members from each grade and their Principal, Mr. Damian Hogan joined the rail trail committee including Maffra and District Landcare Network members to pick up rubbish along the rail trail beside the Princes Highway.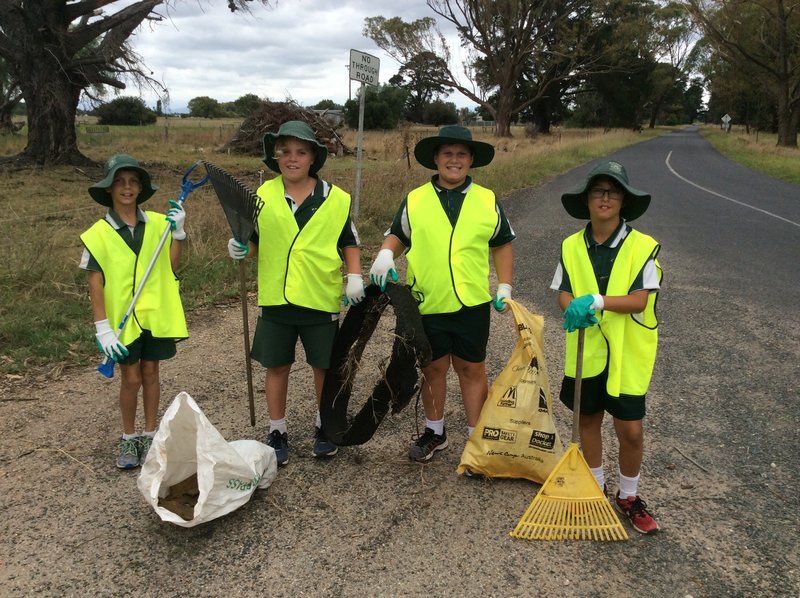 Despite yearly efforts by students to clean up this trail, the supply of rubbish seems to be never-ending. As in previous years, students returned to school with bulging bags of rubbish. Some of the large rubbish, such as truck tyres, car parts and broken road signs, was too large for students to carry back to school. These were stockpiled for collection later by the landcare vehicle.
This year's Stratford Clean Up Australia highlighted the downside of purchasing food and drink in single-use packaging, such as plastic, foil, and aluminum. St Pat's students separated rubbish for recycling and landfill as they collected. Everyone was amazed at how much rubbish has accumulated from passing traffic since this time last year. Students learned valuable lessons about responsible disposal of rubbish while travelling in a vehicle or while walking or cycling along the rail trail. These young Stratford students are now very aware of the importance of caring for their local environment by practicing recycling and responsible rubbish disposal.
After cleaning up the trail each year for the past five years, Stratford's St Patrick's students have also become proud ambassadors for their local rail trail.