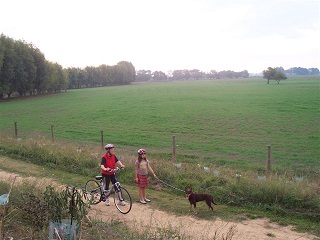 Safety and Trail Courtesy:
Gippsland Plains Rail Trail Code of conduct:  
All users must remain on the trail.
Do not enter private property.
The rail trail can only be used by walkers, cyclists, equestrians and wheelchairs – unauthorised motorised vehicles of any kind are not permitted.
Dogs are permitted, but must be kept on a leash at all times. Droppings must be removed in the usual way (plastic bag), and discarded thoughtfully at the next town.
Camping is not permitted anywhere on the trail.
Fires are not pemitted on the trail, unless authorised by the proper authorities.
Keep to the left of oncoming traffic.
Do not disturb livestock and/or wildlife.
Cyclists: Approach horses with care, alert others to your approach, overtake on the right at reduced speed.
Equestrians: Slow down approaching other users, dismount and lead horses over bridges. In some sections an equestrian trail is separate from the gravel pathway and is suitable only for horses.
Public toilets are locted in all towns along the trail. Please do not use the trail or the bush. This a community asset; please keep it clean and respect other users, farms and towns alongside it.
Take your rubbish home or discard it thoughtfully at the next town.
In addition to the above, we recommend you:
Travel with at least one other person.
Maintain a comfortable pace, within your level of fitness.
Travel at the pace of the slowest person in your group.
Take note of kilometre signs, road signs, crossing signs or obvious landmarks which may be used as a point of reference in the event of an emergency.
Report any serious misconduct, vandalism, or damage to the trail by emailing details to: helenho@wideband.net.au
Note:
This Rail Trail is a Crown Land Reserve. It is open 24/7 and no charge applies. HOWEVER – user onus applies. If you are not prepared to accept that there can be from time to time unexpected changes to conditions (Trail surface variations, effects of wind, fire, flooding etc), DO NOT enter the Trail Reserve. Bicycle and horse riders entering the Trail Reserve must have a sufficient level of competence and be equipped to be independent during their visit.
Parts of the Trail may be subject to closure in part or whole at very short notice. Check weather conditions before travel. Be prepared with insect repellent and appropriate sunscreen (clothing, hat, block-out etc) ALWAYS CARRY SUFFICIENT WATER FOR YOUR TRIP.