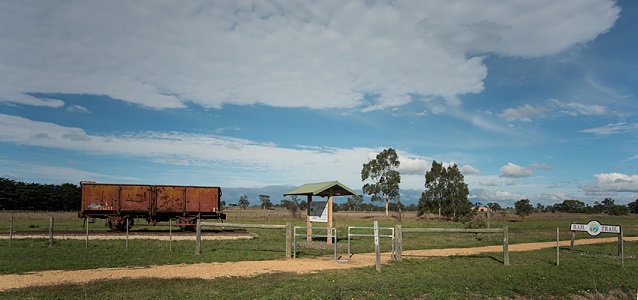 On Monday 26 May, 2014 a GY wagon was positioned at the old Cowwarr Station Grounds site.
GY class wagons were a fixed wheel open wagon used mainly for carting bulk grain, but could also be used to transport general goods. Victorian Railways produced about 5,000 GY wagons with the first rolling off the production line in 1939. Production ceased in 1958 with heaviest production runs occuring towards the end of the 1940's and into the early 1950's. On some lines, these wagons could be seen in long rakes numbering 70 or more (what a site it must have been!). Now, on the Gippsland Plains Rail Trail, this lonley sentry stands watch at Cowwarr as a reminder of days gone by and a slower, simpler life.
More pictures of the GY can be viewed in the Gallery section of this website.