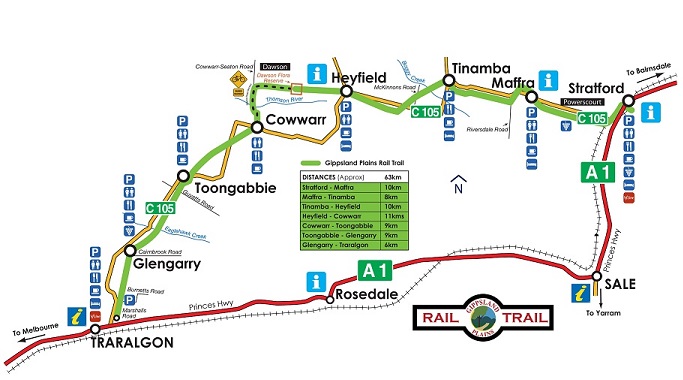 The Gippsland Plains Rail Trail extends 67km from Traralgon to Stratford in Central Gippsland, Victoria.
For the most part, the trail follows what was the railway line between Traralgon and Stratford (via Heyfield and Maffra), which was opened in 1883; thus connecting Far East Gippsland and Central Gippsland with Melbourne via an alternative route (Traralgon to Stratford via Rosedale and Sale being the other). Given that timber was already being transport by rail to Melbourne from Orbost, the alternative route would allow rail transportation of the timber being produced in Heyfiled also, and the thriving sugar beet industry in Maffra. In later years the line would become an important part of Gippsland's growing dairy industry, too. The line remained a vital artery in regional Victoria's transportation system until the 1980's. However, in 1986, the line between Traralgon and Cowwarr was closed, and closure of the Cowwarr to Maffra section occured in 1994, thereby rendering the Maffra to Stratford line redundant. Almost all of the tracks were removed shortly after, but still today, a number of tracks remain and are visible in several areas along the trail. Work began on the first section of the Gippsland Plains Rail Trail in 2004, and was officially opened in 2005. From those humble beginnings, the trail today is a wonderful and exciting asset for all to enjoy; locals and visitors alike, and an important example of flora and fauna indiginous to the Gippsland region.
The trail passes through high quality dairy country, and offers sweeping views of the Great Dividing Range to the north, and is unique as visitors can connect to and travel by train to either end of the trail.
The trail is perfect for weekend short breaks with most townships along its route offering accommodation, but all offering hot food, visitor services and amenities. With three V-line services daily (www.vline.com.au), trail users can arrive at Traralgon or Stratford by train, then return home, again by train, from the other end.
TRARALGON TO GLENGARRY (approx. 10kms):
The Gippsland Plains Rail Trail officially commences at the intersection of Marshalls Rd and the Traralgon-Maffra Rd (C105) which is approx 4 km from the Traralgon station and CBD.
To get to the start of the trail from the Traralgon railway station, head to nearby Victory Park and follow the path to the left which goes underneath the M1 highway and brings you up behind "Cold Rock" icecream.  Follow path towards the large ASIC building immediately in front of you and turn right over the footbridge.  Turn right into Munro St, then 2nd left into Peterkin St, first right into Davidson St and continue to end of Davidson St where it intersects Park Lane.  Turn left in to Park Lane and continue until the T intersection with Marshalls Road.  Turn right and head North on Marshalls Rd to the intersection of the C105 and you will see the start of the trail which is clearly signposted.   The trail carpark is located at Burnetts Rd, approx 1.5km along the trail towards Glengarry.  At this location there is plenty of safe off road space to load and unload bikes, organise kids and gear and there is also a trail map and information shelter.
The 6km route to Glengarry takes you over the spectacular Latrobe River floodplain and four spectacular bridges that have been restored for rail trail use.  This section of the trail can be quite busy with walkers, runners and local trail users so please take care.
Before leaving Traralgon, it is possible to have your cycle checked and, if necessary, serviced and/or repaired at Bicycle Evolution, Shop 5/27 Princes Highway – almost right next door to the Traralgon railway station. Here you'll find a full range of cycle parts, accessories, clothing, safety items and repair kits.
Upon reaching Glengarry, you'll find several specialty shops, including a craft and fabric shop in the old Glengarry railway station (right next to the trail head), a fantastic bakery who do great coffee, and a fully stocked supermarket where you'll find a limited range of cycling accessories. You can also get all your food and drink supplies there too, before you head off towards Toongabbie. But before you leave the town, the Glengarry Hotel makes an ideal place to refresh while studying your maps and researching the many attractions that await you on the journey ahead.  If you're travelling by car or RV, you can park in the car park opposite the hotel. This is where you'll find the trail head, and where the old Glengarry railway station and goods yard crane is located. Feel the history here!
GLENGARRY TO TOONGABBIE (approx. 9kms):
The surface from Glengarry to Toongabbie is smooth, flat, and well packed gravel. You'll quickly come to Eaglehawk Creek which is a peaceful location and the place to pause. For the first time, really listen to the silence of rural Gippsland, broken only by the occasional frog croaking or bird whistling. It is also a good spot to take a few scenic photos. The newly constructed wooden deck crossing at Eaglehawk Creek ensures safe passage of this meandering waterway. Ride on little further, and before you know it, you'll have arrived at Toongabbie.
The Toongabbie trail head is located on Traralgon-Maffra Road (C105) and crosses the road at this point. It maintains its smooth well packed gravel, flat and easy-going surface all the way to Cowwarr. The Toongabbie is the location of the Rail Trail General Store. This is a good place to refill with water (or other) and perhaps enjoy a quick bite to eat. While you're in Toongabbie, some of the worthwile attractions are the Toongabbie wetlands, and the Ned Stringer Memorial in Hower Street. In 1862, Ned was the first to discover gold in the area, and thereby began the gold rush in nearby Walhalla. The historic cricket pavillion located across Cowan Street, behind the general store is also well worth a look (public toilets are also located behind the store, across Cowan St).
Toongabbie to Cowwarr (approx. 9kms):
The trail between Toongabbie and Cowwarr is once again easy going on a well formed gravel path. Leaving Toongabbie you will soon get your first glimps of the Great Dividing Range. Have your camera at the ready, because on a fine day, misty morning, or balmy early evening, the colours of the mountains can be quite extraordinary. An ever changing palate of lush deep green fading into soft pale grey, then further blends into soft blues, purples, and pinks, reminiscent of the scenes painted by Eugene von Gue'rard (1811-1901), one of Australia's most important landscape painters and a regular visitor to Gippsland. These are the Range's most southern foothills, and are a part of the famous Victorian High Country. They are also the gateway to the Alpine National Park. If you are travelling on a clear winter's day, it is possible to see snow atop Mount Wellington. Just after you cross Traralgon-Maffra Rd (C105 – a busy road), a stratigically positioned seat is the perfect spot to take in the expansive vista of the multi layers of the mountain range as they stretch out before you across the rim of the fertile Thomson River valley, and its younger ofspring, Rainbow Creek.
 As you make your way past the remnant Red Gum forest and the lush irrigated pastures, where contented cattle graze, you will soon arrive at the relics of the old Cowwarr Railway Station and rail head. Here, you can take a moment to imagine the activity of its past. The life of railway workers from a bye-gone era, hustling and bustling about their busy day, loading local produce into the GY wagons; timber, livestock, vegetable and dairy priducts, all bound for Old Melbourne Town and beyond.
The Cowwarr Butter Factory (c1918) was located adjacent to the station with its own siding to access its markets both in Melbourne and abroad, with exports to South Africa, Canada and England. This magnificent example of Federation Arts & Crafts architecture is listed with Heritage Victoria, and has been transformed into the Cowwarr Art Space. The Art Space is an artistic and cultural hub with a changing exhibition program, plus accommodation for artisits' residencies and retreats with visitors from around the world. They serve local wine, and great coffee.
Cowwarr Art Space is also the home and studio of internationally renowned sculptor, Clive Murray-White and his wife, Carolyn Crossley, the Director. The gallery and Clive's studio is open to the public, and you can enter directly from the trail, or from the main entrance on Traralgon-Maffra Rd (C105). For details, go to www.cowwarr.com
Only a little further on, the Cowwarr trail head is located just on the outskirts of the main township of Cowwarr. The original Cowwarr General Store is a great place to replenish your supplies and pick up a quick bite-on-the-go; or sit in the shade of the veranda and comtemplate the rest of your journey. Or it might be your pre-arranged pick-up point as you chomp on your well deseved hamburger with the lot, or fish and chips. On the other hand, if you're in need of a more substantial meal, you won't be disappointed with the fare at the Cowwarr Cricket Club Hotel. http://cowwarrhotel.com.au/  with its art deco architecture and elegant interior. There is also a more country rustic area with a warm fireside beer garden if that more suites your trekking or cycling attire.
Before you leave Cowwarr, remember to check out the famous Cowwarr Cows. The herd of brightly painted 44 gallon drum cows are dotted throughout the town. How many can you find? https://www.facebook.com/Discover.Cowwarr
COWWARR TO DAWSON (approx. 5kms):
As you leave, the trail passes along Cowwarr's western boundry, and is once again easy going on a well packed gravel surface. As you go, you'll traverse the "Flights of Fancy" creative learning project involving Cowwarr Primary School students and artist Gavin Roberts, with the support of the Arts Victoria Artists in Schools Program 2013. These fancy creatures incorporate elements from every day dairy farms, irrigation poly, and blue plastic bins. All you need to do is add creativity and a child's imagination, and you get this fantastic outcome. Look for them arching over the trail as you head north towards Rainbow Creek, which is only a few metres further along the trail. The Rainbow Creek crossing makes for a terrific photo opportunity from an elevated position. This delighfully pretty creek is generally not much more than a meandering brook, but after heavy rains can swell to a torrent. Tragically, floods in 2007 took out the original historic timber trestle bridge. Just after you traverse the rich river flats on the other side of the new bridge, the trail is interrupted at Cowwarr-Heyfield Rd (to navigate around the Thomson River), and takes a short diversion along some quiet country roads. There is a large sign at this point and the route from here to Dawson Flora Reseve, where you will re-join the trail, is clealy maked. All roads are clearly signposted as you go, and the road surfaces are sealed. Please be aware that these are public roads, and due care and diligence must be exercised at all times.
Firstly, turn left onto Cowwarr-Heyfield Rd and travel for about 600 metres. You'll come to the Cowwarr-Seaton Rd intersection, where you'll turn right and travel another 1.5 kilometres until you reach the Thomson River crossing. Proceed over the bridge and continue along Cowwarr-Seaton Rd for about another 625 metres, then turn right onto Dawson-Heyfield Rd, and travel about 2 kilometres. You'll see the entrance to Dawson Flora Reserve and cutting on your left, and it's here that you re-join the trail. You are now at the (approximate) halfway point between Cowwarr and Heyfield.
DAWSON TO HEYFIELD (approx. 6kms):
Major works have recently upgraded this section of the trail and it is now easy going on smooth, fine, packed gravel. Crossing over some of the few remaining railway tracks on the trail, you will enter Dawson Flora Reserve where many Plants of Significance are found along the trail's shoulder. Some are quite small, and easily missed, while others are quite large. Please treat these precious plants with care and respect, and remember that unauthorised removal of protected flora is an offence, and heavy fines may apply. Dawson was once the site of busy Glenmaggie Railway Station and siding, but today, nothing remains of the building that at one time even housed a post office. As you approach Heyfield you will pass by the impressive log stacks of ASH (Australian Sustainable Hardwood), owner/operator of Australia's largest hardwood sawmill, which is also in Heyfield, but at a different location to the log stacks. Note this private property, and access by unauthorised persons is not permitted. Now there is a short descent to Racecourse Road, and care must be taken here. Follow Racecourse Road to Davis Street, or take the scenic route around Heyfield Wetlands before re-joining the trail where you left it. Proceed to Davis Street and follow the trail through Apex Park to the rotunda in adjoining Lion's Park. This is the end of the Cowwarr-Heyfield leg and beginning of the Heyfield-Maffra leg.
Heyfield is the ideal place to stay overnight. There is clean, comfortable and affordable accommodation in the CBD, at Heyfield Accommodation and the Commercial Hotel. Or, not too far out, at Broadbents Motel, Abington Farm B&B, Congulla Cottage, and Blores Hill Caravan & Camping Park. If time permits, it is worth planning an extra day to explore the area around Heyfield. There's the famous Blore's Hill mountain bike track, Lake Glenmaggie and Glenmaggie Weir, Blue Gables Winery, Glemaggie Wines, Apex Park, Heyfield Tourist Information & Wetlands Centre, Heyfield Vintage Machinery Shed, and lots more.
There are several good dining options in Heyfield, for full meals, or quick take-aways. Why not try the Railway Hotel, Commercial Hotel, Cafe' 3858 or Temple Glory for dine-in meals, or for takeaway there's Stoddies Diner & Heyfield Pizza, Heyfield Corner Store & Mr. Pizza, Heyfield Bakery or Busy B's Milkbar and Takeaway. Several of these establishments are open early for breakfast, too.
HEYFIELD TO TINAMBA (approx. 10kms):
Heading east from Heyfield towards Tinamba, the trail follows the South shoulder of Traralgon-Maffra Road (C105) for a kilometre or two, before crossing the road and heading northeast. The going here is flat and easy on well packed gravel, and much of the trail between here and McKinnon's Road has recently seen major improvements; especially the area either side of Boggy Creek (so-named for a very good reason!). Once quite rough and difficult to traverse, the section of trail from Boggy Creek to McKiinnon's Road is now in tip-top condition, and Boggy Creek will no longer live up to its name. Now it won't be long before you arrive at Tinamba.
The trail head at Tinamba is actually 50-100 metres south of the township, but it is well worth leaving the trail to visit the Tinamba Hotel. Once your typical 'country pub', this modest yet proud hotel, which has served Tinamba so well for generations, has been transformed in to a true oasis-in-the-bush. The owners have thoughtfully and tastfully redecorated the hotel thoughout, and this grand old lady is now a beautiful and elegant fine dining establishment. Although there is somewhat of a formal air to the hotel these days, trail users are always welcome, and the relaxed and friendly staff will ensure your dining experience is a memorable one. However, if you are pressed for time, perhaps a cold beer in the front bar, or a coffee on the hotel's verandah would be prefereable. And on your way out of Tinamba, don't leave without grabbing a quick snack and a bottle of water from the Tinamba General Store.
TINAMBA TO MAFFRA (approx. 8kms):
Back on the trail now and you're heading to Maffra. The trail is predominantly flat and easy going on packed gravel. Not far out of Tinamba, the trail rejoins Traralgon-Maffra Road (C105), and follows its South shoulder. Keep an eye out for the remains of an old railway bridge not long after you pass Riversdale Road. If the light is right, it presents a haunting subject to photograph. The trail crosses to the North side of Traralgon-Maffra Road a little past Mewburn Road. You are now very close to Maffra, and about to enter a pretty section of the trail known as The Billabongb Trail. The next 300-400 metres, with its dense, green vegitation and billabong has a tropical rainforest feel about it. The trail now presents a few gentle undulations, but a person of even modest fitness will have no problems here. This is where the trail meets the Macalister River. The bridge crossing provides a wonderful view of the river on either side, and sweeping views across to Maclister Park. From here, you can take a break in the park, enjoy a refreshment at the Macailster Hotel adjacent to the trail's bridge exit, head North along River Street to the nearby Macalister Wetlands Reseve, or continue on for 200-300 metres into town.
Maffra presents so much of interest, and you'd benefit greatly from another overnight stay. Options include Maffra Motor Inn, Cambrai Back Packers Hostel, Maffra Golf Club & RV Park and Mafffra Caravan Park. Dine-in options are Maffra Sports Club, Macalister Hotel, Maffra Golf Club, Cafe' L'Attitude, Coffee House 138, Chopstix Chinese Restaurant, and Duart Reception Centre. Note: not all venues are open every night, so it is advisable to phone ahead to confirm trading hours. Takeaway options in Maffra are many, and include Mr. Pizza, Maffra Fish & Chips. Maffra Hot Bake Bakery, Maffra Bakery, Richo's Pizza and Meg's Takeaway.
The sites and atttractions of Maffra will certainly keep you interested and entertained: the Maffra Motor Vehicle Collection and Museum is a must for any motoring enthusiast, the Pino Deriu Mineral Collection is alive with vibrant colours and Pingvin Booksellers, Antiques, Collectables and Ephemera will delight and surprise you. There's also the Maffra Sugar Beet Museum, the old Maffra Railway Station (not open to the public, but viewable from the road), Avon Ridge Winery, Macalister Park (more tin cows!), Macalister Wetlands Reserve, and historic Duart Reception Centre.
If you have the time, a trip to nearby Boisdale and (a little further out), Briagalong, is worthwile. You'll fall in love with these two sleepy towns.
MAFFRA TO POWERSCOURT(approx. 5kms):
The trail from Maffra to Powerscourt is flat, solid packed, and easily ridden. Powerscourt is named after the grand Powerscourt Homestead which was built in 1850. Although no longer open to the public, this private residence is visible in the distance from the Maffra-Stratford Road (C105). For a brief time in the 1990's, Powerscourt was operated as a fine dining restaurant and elegant B&B. Those who were lucky enough to dine and/or stay there still talk of the majesty and grandure of the ballroom in which the restaurant was housed. Although unsubstantiated, it is generally believed that the ballroon was added in 1894 by a farm labourer who had stuck gold the same year and purchased the property. He added it to accommodate his daughter's 21st birthday gathering!  The rail trail's Powerscourt section was once the site of another busy railway station and post office on the old Stratford to Traralgon line. Nothing remains of the station today, but it is your exit to delight in the wonderful wines produced at Avon Ridge Winery, just across the road. Opening hours are 10am-4pm Wednesday & Saturday, or by appointment. You'll love tasting some of their amazing wines while you relax on the verandah or in the beautiful gardens, both of which afford pleasing views of the vines and surrounding countryside. Oh… and better throw in a cheese platter withn that!
POWERSCOURT TO STRATFORD (approx 5kms):
Once again, the trail from Powerscourt is flat, well surfaced and easy to ride. Just a hundred or so metres from meeting the Princes Highway (M1), the trail crosses Maffra-Stratford Road from the South side to the North Side. You can see the remains of two railway bridges here, and they are excellent photographic studies. The trail actually marries to Princes Highway (M1) at the Avon River Bridge crossing. A dedicated pathway for pedestrians and cyclists extends across the bridge on its Northwest side. The pathway is protected by barriers, and is quite safe from traffic. Persons on horseback should dismount and walk their animal/s across when the walkway is clear of cyclists or pedestrians, and therefore safe to do so. Once on the Stratford side of the bridge, do a sharp U-turn to your left and continue down to below the bridge. You can now make your way under the bridge, and into Apex Park where the trail head is located. It is dangerous to attempt to cross the highway from the bridge itself, and we strongly recommend that this not be attempted. As mentioned already, the Stratford trail head is located at Apex Park.  Services at the trail head include toilets, water, bbq, sealed parking, children's playground, BMX track, the all abilities Stratford Arts Trail, caravan park and swimming (when safe) in the Avon River or in the adjacent municipal swimming pool.
Stratford has a strong arts and Shakespeare theme, and in Apex Park a section of the Stratford Arts Trail can be seen. However, for full details of the Arts Trail, head along Tyers Street (M1) to the Courthouse Theatre where Segue Arts Cafe' is located. There you can get all the information needed to explore the Stratford Arts Trail, including a map and an MP3 audio presentation. The trail is short enough to walk in good time, and is an excellent way to see the town. Some of the sites you might encounter when in Stratford are; the Stratford railway station, Hobbies Plus (a dream world for the model trail enthusiast), Turkish Magic, where magnificent Turkish rugs, runners, ceramic wear and leather goods can be seen (and bought at very reasonable prices!), Apex Park (with its medieval themed playground), Avon River flats, and the railway bridge to the east of Apex Park. If you're lucky enough to see a train crossing the bridge, the driver often gives a toot and a wave.
Staying in Stratford? Then the Stratford Motel or Stratford on the River Tourist Park are close to everything in town, clean, comfortable, and affordable. Need dinner? Try the Avon Hotel, or for lunch, Segue Arts Cafe is a great choice. You can even bring your own lunch to Segue, and everyone is welcome; particularly cyclists.
From Stratford, you can easily make your way back to Traralgon (or beyond) on the V-line service. However, we'd like to offer two alternatives:
1. Rather than head home, why not head further East, to Bairnsdale, where you can ride the East Gippsland Rail Trail from Bairnsdale to Newmeralla (almost 100kms!), via Bruthen and Nowa Nowa?
2. Ever thought of taking the Gippsland Plains Rail Trail back to Traralgon? Who knows what you missed the first time? And besides, things always look different when viewed from another angle. You can still catch the train home from Traralgon… and we'd love to see you again 🙂
(Disclaimer – Some content on this website has been sourced from other websites. Please note that security cameras operate on sections of the Gippsland Plains Rail Trail.)